Latest Buzz
SQUEEGEES

SQUEEGEES now available for viewing on the following partner sites: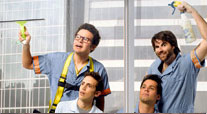 View Larger
Coming Soon...
trenches

From Shane Felux the critically acclaimed filmmaker and creator of "Star Wars Revelations" and "Pitching Lucas," Stage 9 Digital Media presents the original science fiction short-form thriller "Trenches." Debuting this spring, "Trenches" is set on another planet during a different time. A botched rescue attempt forces a young soldier and his squad to team up with their enemy in an epic battle against a merciless beast wreaking havoc in their world. "Trenches" is a 10-episode original series produced for Stage 9. Each 2-4 minute episode will be available in both SD and HD formats.

voicemail

2

ABC.com's first original digital series returns for a second installment with "Voicemail 2." Inspired by a decade of saved messages, the short-form collection of humorous and fictionalized vignettes captures the life of Mike, a lovable slacker who continues his journey in the pursuit of happiness...and the avoidance of all responsibility.
Quick Links
News
stage

9

releases squeegees in web syndication


04.29.08

Stage 9 Digital Media expands exhibition of its debut series 'Squeegees" with web syndication partnerships with YouTube, Hulu, Zvue, eBaum's World, X-Box Live and iTunes starting May 1. After an...
Download PDF
the disney-abc television group announces...


02.28.08

The Disney-ABC Television Group announced today the highly anticipated launch of Stage 9 Digital Media. Focused on creating original short-form programming by merging innovative creativity with...
Download PDF